Church Services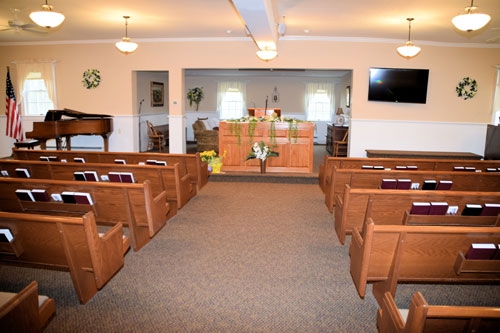 QHBC is grateful for the many Bible teachers who minister to children, teens, and adults. We use the King James Version of the Bible in our teaching opportunities. We welcome visitors to any of these programs. The church services are usually one hour in length.
Our nursery is staffed with two or more ladies who care for newborn babies and children up to age four. Playtime is mixed with songs and stories about Jesus. This ministry is available for every service.
The 10:30 am Sunday School for young people is divided into five classes. Grades PreK-K, 1-2, 3-5, 6-8 and 9-12. Every class has at least two teachers who use Bible lessons, songs, crafts and games with the goal to help children learn about God.
Teenagers also are encouraged and assisted with opportunities to serve others in various ministries and thoughtful deeds, equipping them to be Godly leaders for the Lord Jesus.
Adult Sunday School class meets in the auditorium at 10:30 am. We sing hymns of the faith together, enjoy special music, read Scripture, and open our Bibles for the preaching of God's Word.
Sunday evenings at 6:00 pm and Wednesday evenings at 7:00 pm are other opportunities for spiritual growth and fellowship in the things of the Lord Jesus. Sunday evenings at 6:00 pm the adults and teens meet for music and Bible preaching while children in grades K-6th have a program geared for their ages with activities and lessons from the Bible. Wednesday nights we meet as families for prayer and lessons from the Scriptures.
The Hillbillies is a senior citizen group of the church that meets once a month, with a different theme for each meeting. Things like: sharing memories of weddings to celebrating someone's new grandchild or great grandchild. The meeting may include viewing someone's recent travel overseas, or an indoor picnic in March. A tasty meal is always provided at no charge.