About Quackenbush Hill Baptist Church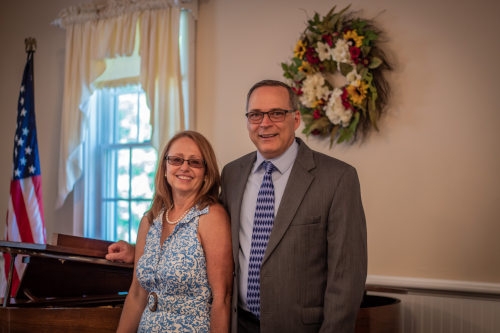 Quackenbush Hill Baptist Church is a growing church that is located in a rural setting with a loving family atmosphere. Quackenbush Hill Baptist Church is an Independent Baptist Church that has its focus on the preaching of the Word of God. We have weekly programs for children and teens, a nursery is provided for every service, and there are ministries geared for adults.
HISTORY
Quackenbush Hill Baptist Church (QHBC) was founded by Reverend Dan Barner with its first service on Easter Sunday, April 3, 1994.
The building QHBC first occupied was built in 1858 as a one-room schoolhouse consisting of 780 square feet. The building served as a school until 1956. In that year, a group of Christians began to hold services off and on in the former schoolhouse, until it was permanently closed in 1988.
Fern was a Christian lady and neighbor to the closed church. She was concerned for the old building and began caring for it while it sat vacant. She repaired damage inflicted by vandals and also helped to maintain the property. She also began going up to the building to pray that God would use that schoolhouse once again to be a place of worship.
The building sat vacant for six years before Preacher Dan inquired about the place with area residents. He was referred to Fern. Preacher Dan approached her in early 1994 and she was grateful to the Lord in answering her prayers for a church to be there again. The newly founded church was named Quackenbush Hill Baptist Church. Ministry programs were begun, missionaries were brought in for monthly support, and church family ties were started.
After relocating honeybees and various other wildlife inhabitants, QHBC began operating with the one other building on the property, the old school's outhouse. The first building expansion began in 1997 and was completed in 1998. The expansion provided the church with additional meeting space, running water, and a restroom.
QHBC purchased land surrounding the building and began their third construction project in September 2008. This included lifting the building 14 feet so that a lower level could be constructed under it; as well as widening the structure to meet our current and future needs.
The construction and building growth led to a great historical find for the church from the original schoolroom days. A pre-WWII world school roller shade-type map was found in the attic as construction began. It has since been framed and now hangs on a wall to remind us of the building's heritage. We are very thankful to God for all He has allowed in our midst and for all He continues to provide.
Schools, Mission Boards and Ministries We Recommend
Some schools, mission boards and ministries we recommend:
Bob Jones University - Greenville, SC
Crown College - Knowville, KY
Pensacola Christian College - Pensacola, FL
Dayspring Bible College - Lake Zurich, IL
BIMI - Harrison, TN
HELP Ministries - Pilot Mountain, NC
EMU International - Taylors, SC
ABWE - Harrisburg, PA
Through the Bible with J. Vernon McGree
Bearing Precious Seed - Milford, Ohio
Local Christian Grade Schools:
Twin Tiers Christian Academy
Corning Christian Academy
Home schooling families